Events
2023/05/17 & 2023/05/24
Mental Health First Aid Certification Course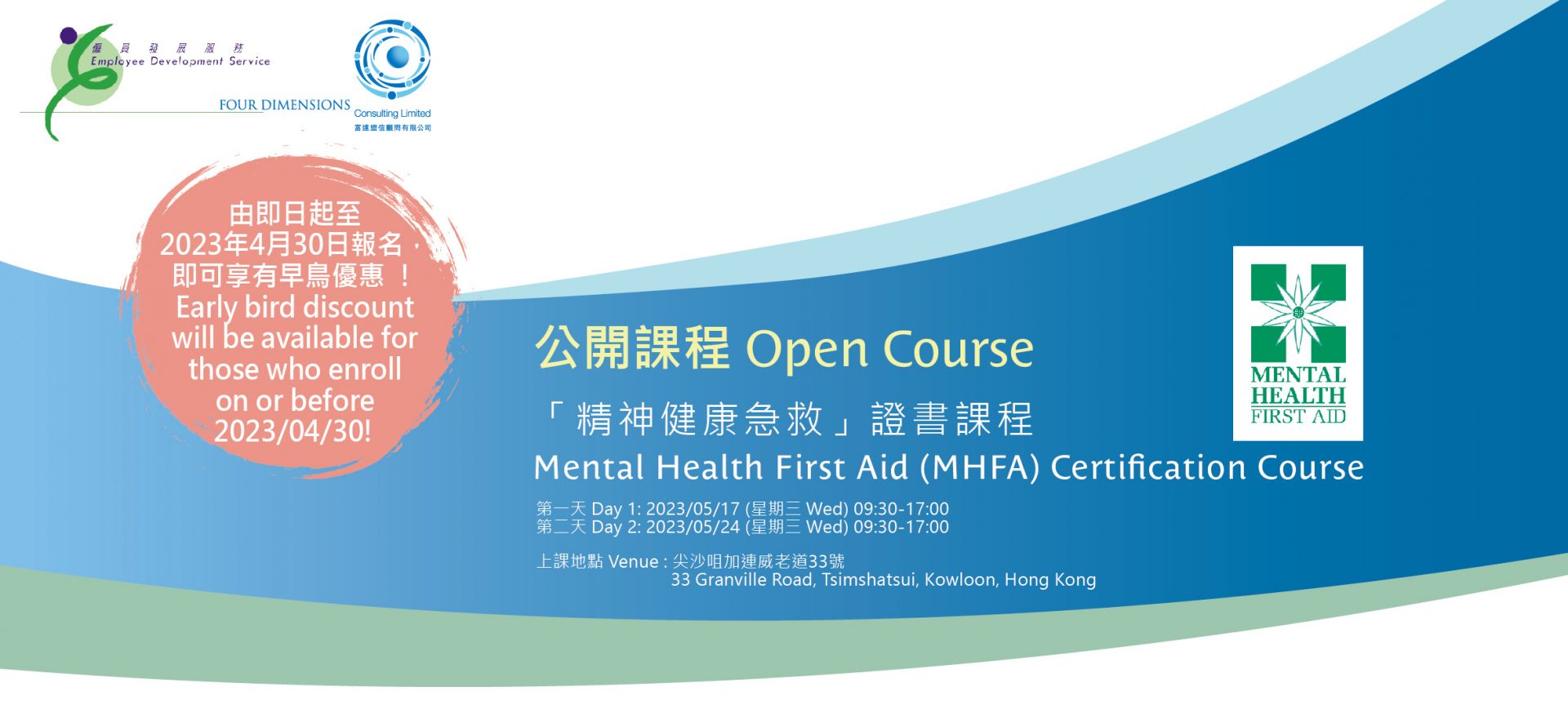 This course will be conducted in two days, 12 hours in total.
*Participants will be awarded the "Mental Health First Aid" Certificate that is authorized by the University of Melbourne and The Mental Health Association of Hong Kong upon completion of the  2-day course
Day 1: 2023/05/17 (Fri)
Day 2: 2023/05/24 (Fri)
Time: 09:30-17:00

Venue: 33 Granville Road, Tsimshatsui, Kowloon, Hong Kong
* Mental Health First Aid certificate could only be awarded to those who have attended both days of the course.
Course Fee : HK$800
(Special discount rate of HK$720 is applicable for any enrollment on or before 2022/09/30)
Instructors:
Dr. Klaris Leung
(Clinical Psychologist / Case Manager / Mental Health First Aid Instructor)
Ms. Helen Chan
(Senior Consultant / Mental Health First Aid Instructor)
Activities : Presentation, skills practice, role play, case sharing, group discussion and video sharing
Language : Cantonese
Deadline:2023/05/05 (Fri)

Notes to Application:
– Please submit the online application form and complete the payment procedures on or before 2023/05/05.
– Payment Method: Bank transferred / Cash Deposit / FPS
*Please contact us if you would like to settle the payment by cheque/cash.
– The participants will receive confirmation email one week before the first day of Open Course.
– The course is non-refundable unless it is cancelled by the organizer.
– Official receipt will be collected in the reception on the first day of Open Course.
Enquiry:2731 6239 (Ms. Wong) / marketing@fourdimensions.org